What is Campus Ministries?
Mission Statement
We are Campus Ministries, we are here to emphasize Christ through the student body here on campus and to the surrounding community.
In order to run the Campus Ministries Organization we have created three different teams within our organization. We have the Praise Team, the Drama Team, and the Spiritual Emphasis Team.
The Praise Team
The Praise Team is led by high school students. The team was created to exhibit the musical gifts God has given to us so we can share them with the school, church, and community.
The Drama Team
The drama team was created for students that love acting, being in dramas, and wanting to participate in skits and plays. Through this they show God's love here at CVA and CVC. 
The Spiritual Emphasis Team
The Spiritual Emphasis Team focuses on the spiritual atmosphere of College View Academy. They are responsible for listening to the students and finding out what we can do to enhance the spirituality at CVA. They are also in charge of planning events such as vespers, chapels, and other events that influence the school, church, and community around them. 
All of these teams have the Student Chaplain (Savannah Fortney) and the Youth Pastor at CVC(Mic Henton) as resources to help accomplish their goals in Christ here at CVA.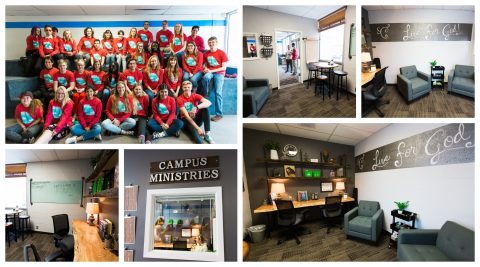 Early last summer Pastor Mic began meeting with two CVA seniors about starting a Campus Ministries. After their initial enthusiasm a fire began to spread throughout the student body that we didn't expect. With a student body count of 67 almost 50% of the students wanted to be part of a spiritual revival on campus. Three teams have formed: a Spiritual Emphasis team, Drama team, and Praise team. As the year started we formalized plans for vespers and other events, but struggled to find a place to meet. The student leadership suggested gaining help from some parents. Nehemiah built the wall around Israel in 52 days, and the community came around CVA to build a campus ministries office that has far exceeded all expectations. The school is so grateful for the donations, and hours of labor put into constructing this room by parents, students, community members, and church members. 

 

The wood for the desk along the back wall was graciously donated by Union College. It came from the oldest tree in Lincoln that fell last year during a wind storm. It was over 140 years old. The high school feels so honored and privileged to share one more connection with Union College. Over 20 hours of work by Plant Services went into treating, staining, sanding, and more staining of the wood. If you're in Lincoln, NE come by and check it out.